North Alabama
Dumpsters LLC
Gadsden, AL
Providing the Best Dumpster Rental Gadsden AL Residents & Contractors Can Trust
If you're searching for a reliable waste management company providing the best dumpster rental Gadsden AL can trust, the team at North Alabama Dumpsters is here to make your day! We are a locally owned dumpster rental company that is proud to serve homeowners, businesses, contractors, landscapers, and other commercial customers in search of dependable, friendly, and knowledgeable dumpster rental services.

We provide dumpster rental Gadsden AL home and business owners trust for fast, affordable, and efficient waste disposal solutions. We carry an assortment of dumpster rental sizes and prices to accommodate any project budget, timeframe, or goals in Gadsden, Alabama, and surrounding areas of Marshall County.

Save yourself the time and hassle of disposing of large quantities of waste and get a dumpster rental Gadsden AL depends on when planning to do a home remodeling project, roofing replacement, shed demolition, or any other type of home improvement or commercial project. Dispose of all of your waste effortlessly with the added support of our skillful team. Learn more about your options and receive a custom quote by giving us a call at (256) 931-5300 today!
Various Convenient Ways to Use our Dumpster Rental Gadsden Alabama Can Rely On
For the #1 dumpster rental Gadsden Alabama homeowners, contractors, and business owners can trust to provide a hassle-free and affordable waste disposal solution, choose North Alabama Dumpsters. We regularly work with customers to provide support for a range of projects including garage, attic, or basement cleanouts, commercial waste disposal, and everything in between!

Whether you're ready to rent a dumpster Gadsden, AL customers can't get enough of to dispose of typical household garbage following a home cleanout project, yard debris, or industrial waste, we have you covered. Contact us to rent and schedule a dumpster rental Gadsden Alabama banks on, and we will make sure it's delivered promptly so that you can load up the waste on your own schedule then give us a call when you're ready for it to be hauled away.

We partner with Marshall County Transfer Station to ensure all waste is disposed of properly in a responsible and timely manner, in accordance with all city, county, and state regulations. When you rent from our dedicated team of professionals, you can rest assured your waste is being managed in a sustainable and eco-conscious way.

We do our best to exceed expectations by offering reliable, friendly, and experienced customer service for each step of the rental process. We also have a simple dumpster sizing guide showing the dumpster rentals options we offer. Give us a call to learn more about our pricing for residential or commercial projects and check out the various convenient uses for our Alabama dumpster rental.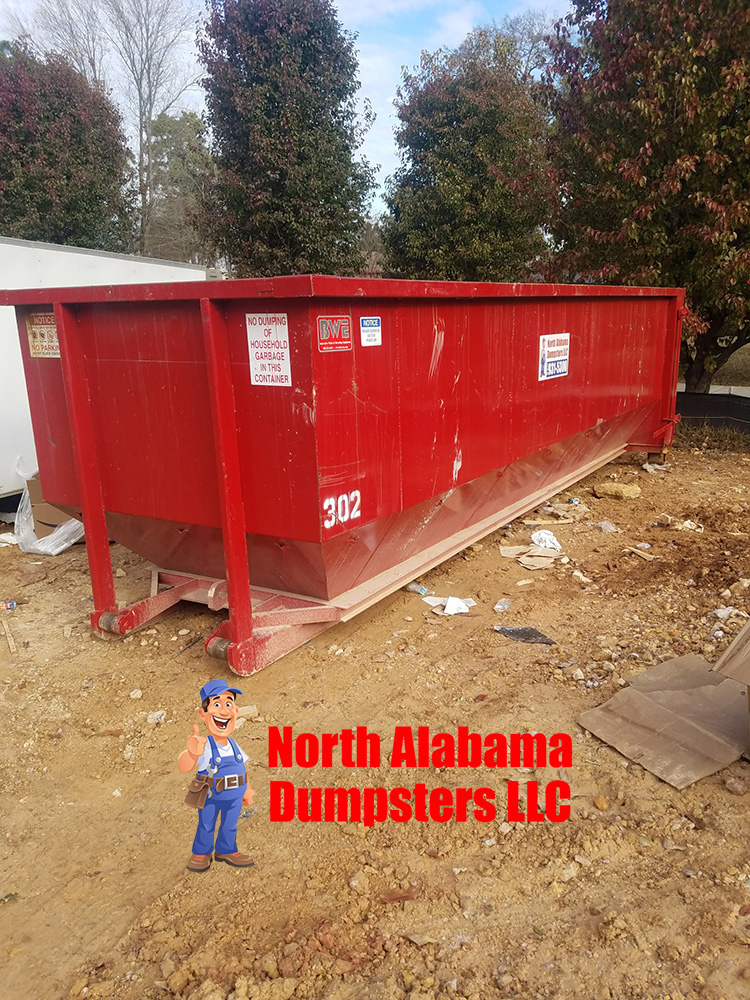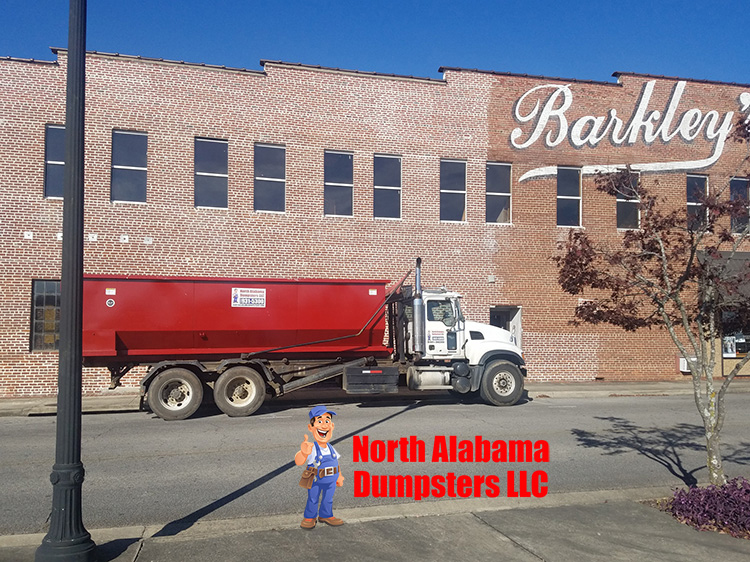 Roll Off Dumpster Rental Gadsden AL Contractors Use for Construction and Roofing Projects
If you are looking for a professional roll off dumpster rental Gadsden AL contractors can depend on for roofing or construction debris removal, we are the perfect dumpster rental service to support your commercial project needs. We help local roofers and contractors with small and large projects alike and carry the right size dumpster options to keep heavy roofing and construction debris properly contained. Large construction projects, new roof installations or replacement projects, and even smaller projects are simpler when you have the right dumpster rental to keep your job site safe and free of debris.

Our affordable and dependable roll off dumpster rental Gadsden AL services are trusted by professional construction companies and roofers across the county. Our track record for providing a dependable budget dumpster rental Gadsden AL contractors can count on is unmatched and backed by many positive reviews from repeat customers. Get in touch with us today to learn more about how we can help support your construction site with top-quality services and selections.
Industrial Dumpster Rental Gadsden, AL Factory and Warehouse Managers Rely On
We work with many manufacturing companies, distribution centers, logistic companies, and factories to provide high-quality industrial dumpster rental Gadsden, AL managers can depend on. We offer solutions that are both dependable and cost-effective for waste management needs. Whether you are looking for a temporary dumpster rental for one-time waste disposal, or you need an industrial waste management dumpster for an ongoing project, we're here to help.

Our dumpsters are heavy-duty and built to haul away packaging, plastic, scrap lumber, and other industrial waste. We work hard to meet the unique industrial waste management needs of our customers in the Gadsden, AL area. We pride ourselves on making sure that we not only provide our customers with the perfect dumpster sizes for industrial waste removal, but also remove the container in a timely and convenient manner, making certain to help keep your individual project goals and job sites on track.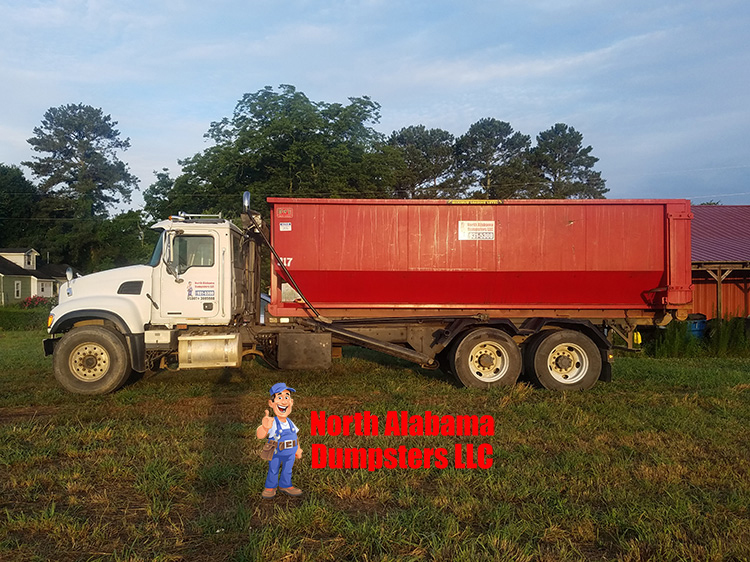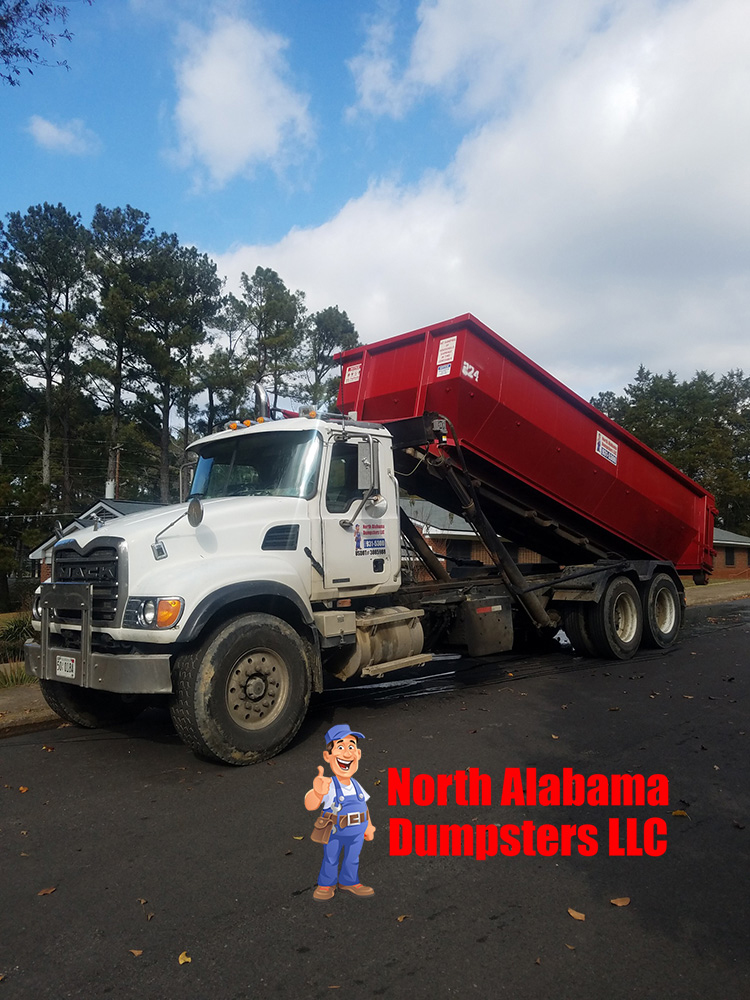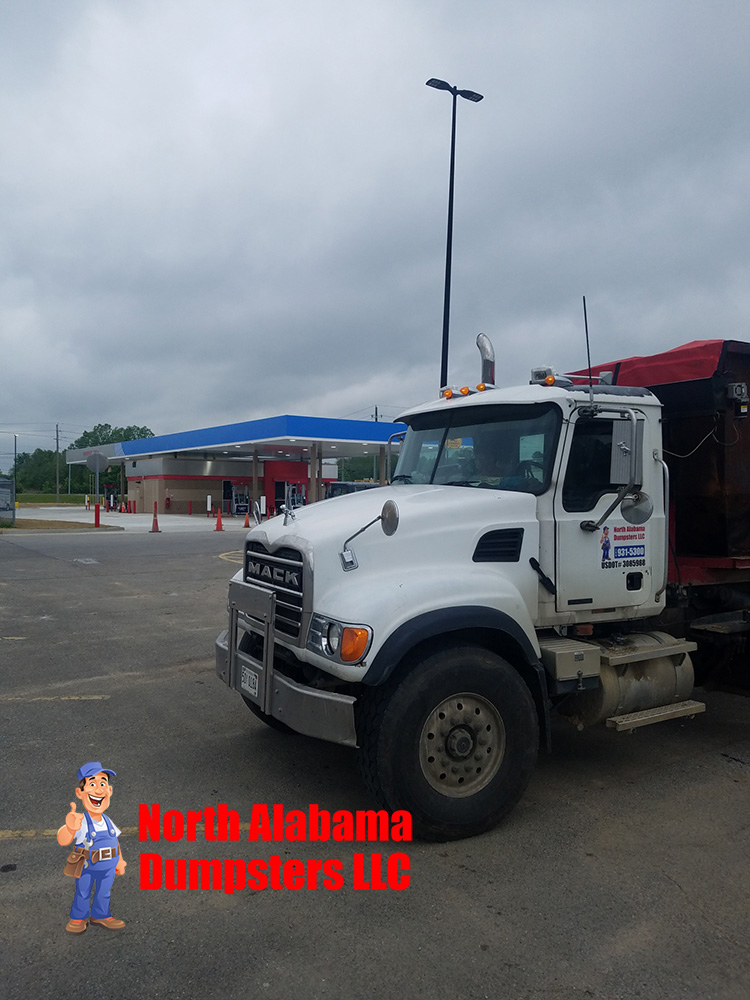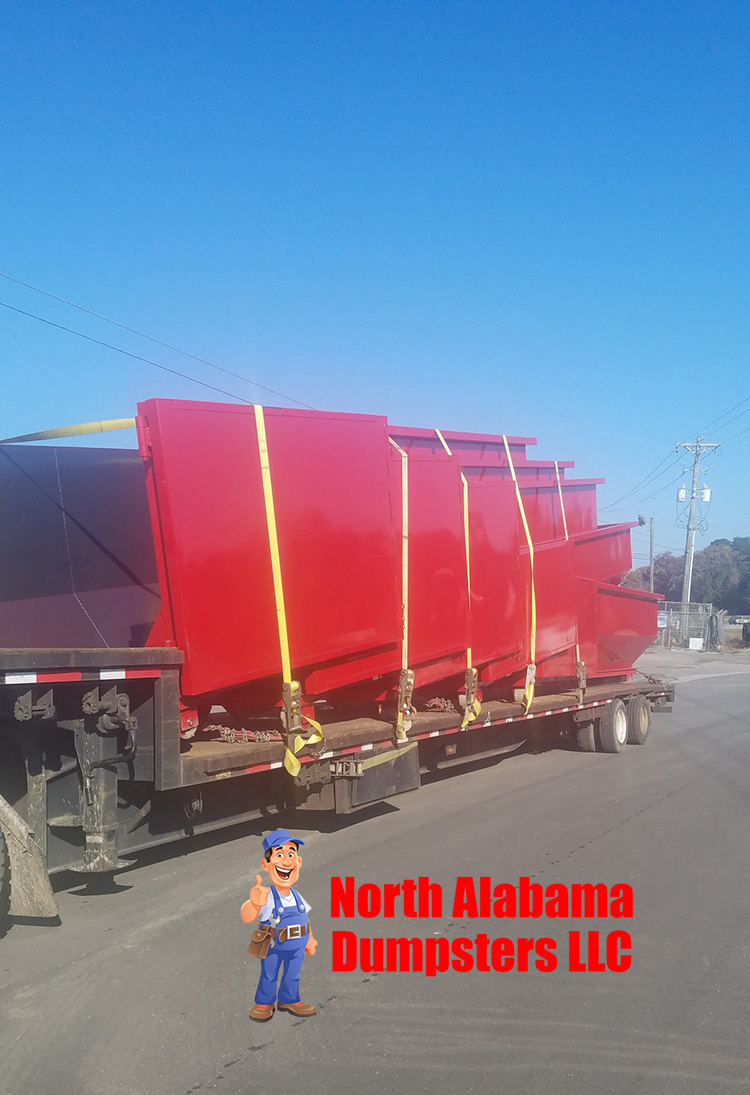 Residential Dumpster Rental in Gadsden, AL that Homeowners Love
We have the dumpster rental in Gadsden, AL homeowners can't get enough of! Use our containers to break down waste and debris from your home and dispose of it all in one trip. Whether you are remodeling your kitchen or bathroom, or perhaps you are ready to finally get rid of years worth of junk cluttering your basement or garage; our North Alabama dumpsters will get the job done right the first time.

We are a dumpster rental source you can rely on for affordable residential dumpster rental in Gadsden, AL homeowners trust and we accept general household wastes, yard debris, broken appliances, junk and debris following small and large home cleanouts, and other home improvement projects. We strive to make garbage disposal a simple, straightforward process for homeowners and anyone else needing a dumpster rental for a range of projects. Give us a call today at (256) 931-5300 to see how we can support your residential project.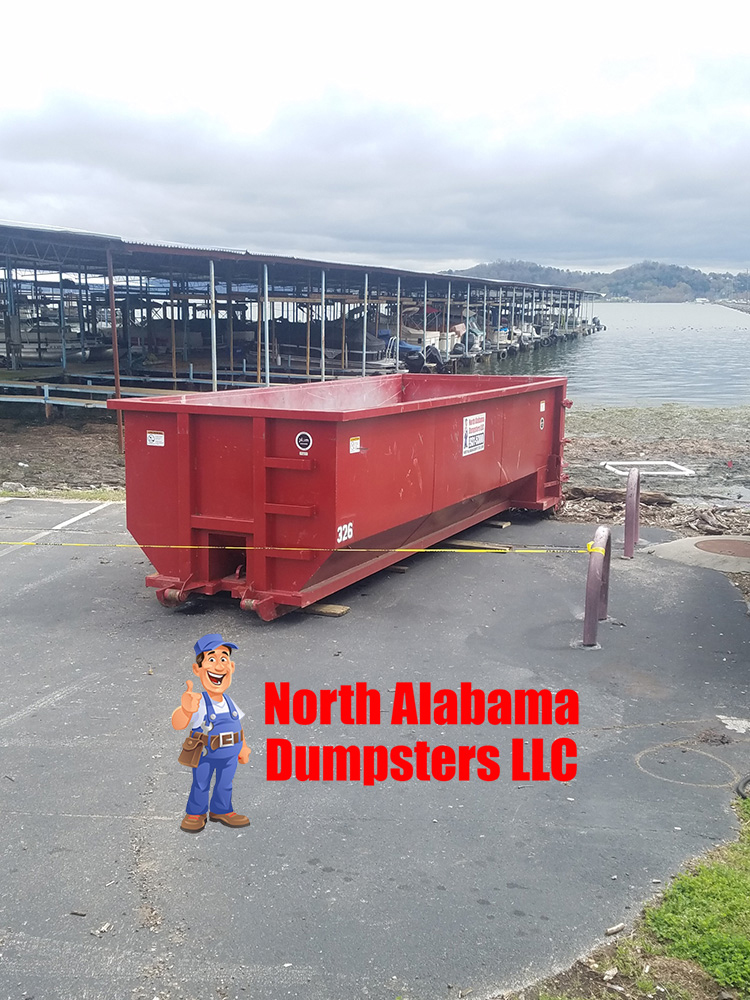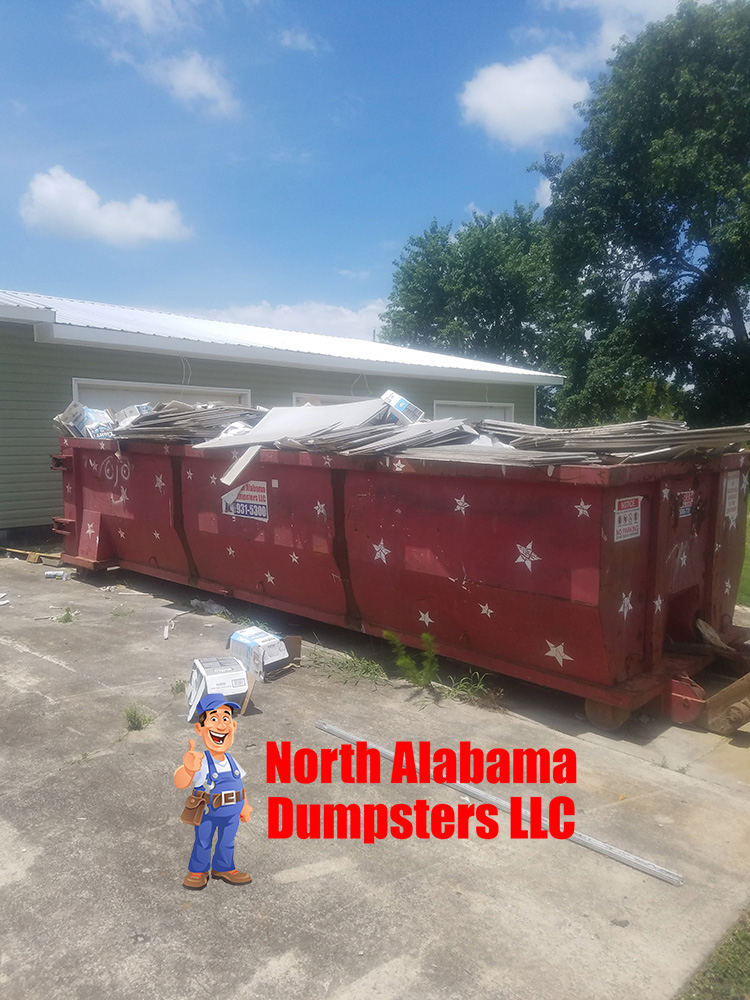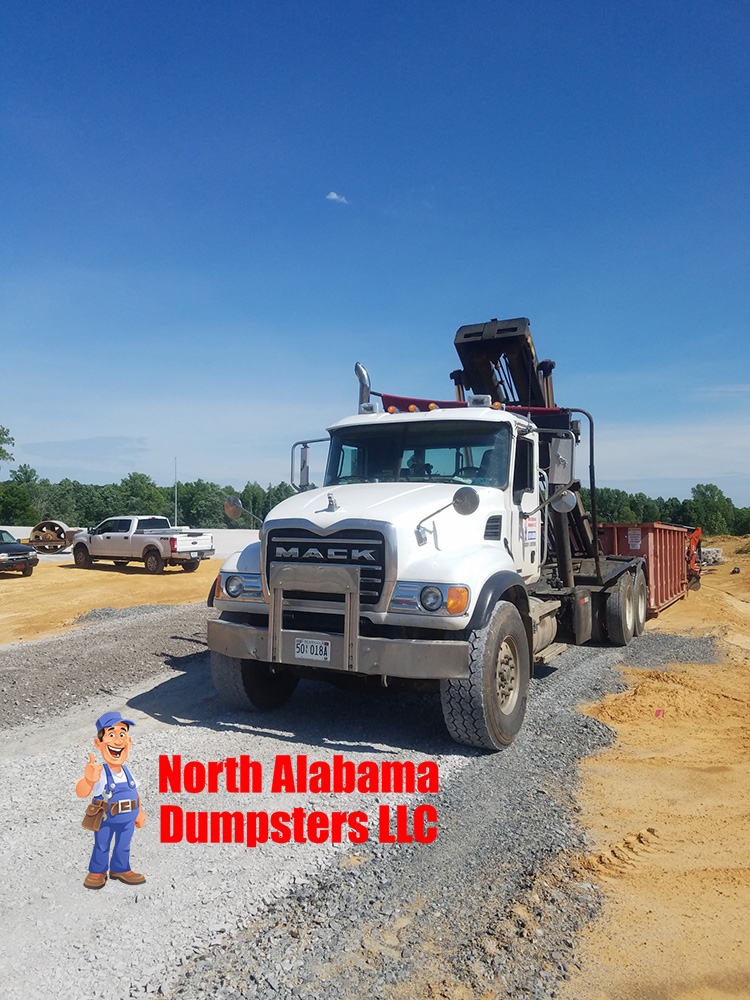 Dumpster Rental Near Gadsden AL for Yard Waste
If you are looking for a dumpster rental near Gadsden AL for yard waste disposal, our team is a well-known dumpster rental provider that offers a variety of sizes at affordable prices for yard waste and landscaping debris disposal, tree services, commercial landscapers and homeowners with yard maintenance projects. Spruce up your yard and increase your curb appeal in no time with the added support of our dumpster rentals.

In the event that you have an excessive amount of leaves, brush, tree trimmings, branches, or any other type of yard waste, our dumpster service Gadsden AL residents rely on helps you get rid of the waste in a convenient and cost-effective way. No more tedious trips back and forth to the landfill with the help of our durable containers!
Commercial Dumpster Rental Gadsden, AL Business Owners Depend On
Any company that needs a reliable dumpster rental Gadsden, AL business owners can trust for commercial waste disposal will be blown away by our services and selections. Whether you're managing a foreclosure or overseeing a new development site, we're confident we have the ideal dumpster rental to meet your short or long-term commercial needs. We are proud to offer the most affordable dumpster rental Gadsden AL business owners, property managers, and leasing agents trust for all of their garbage management needs. Whether you need a dumpster rental to sort out temporary or ongoing disposal for your business, we've got the best dumpster options to handle the mess and stress.

You can book one of our dumpster rental Gadsden, AL commercial clients depend on to help support any type of business. We service hotels, restaurants, gas stations, apartment complexes, retirement facilities, schools, community organizations, and many other businesses with temporary or permanent dumpsters. Contact us today and let us set you up with a commercial dumpster rental Gadsden so that you can keep your establishment clean and looking its best for all your clients, employees, customers, and visitors.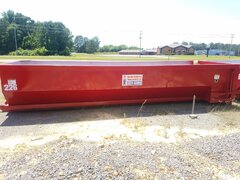 20 Yard Dumpster Service
Dimensions: 22L x 7.5W x 4H
Days: Included
Included Tonnage: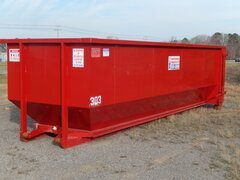 30 Yard Dumpster Service
Dimensions: 22L x 7.5W x 6H
Days: Included
Included Tonnage:
Why Choose
North Alabama Dumpsters LLC?
Professional And
Experienced Team
Flexible, Timely
Pickup and Delivery
Locally Owned
And Operated
Wide Selection
Of Dumpster Sizes
Our Services
Dumpster Rentals in Gadsden, Alabama
Reserve Online
With the help of our user-friendly online booking platform, you can schedule a dumpster delivery with a few easy clicks.
Service Area
We're proud to be the top choice for dumpster rentals in Gadsden, Alabama and surrounding areas.
Delivery
Rest assured that our professional drivers will carefully and seamlessly deliver your rentals, paying attention to your property or work site in the process.
Competitive Pricing
We've built a positive reputation in our community by offering flexible scheduling and transparent pricing to help our clients reach their goals in no time.
We Take Just About Everything
Some examples of the junk we haul away include
Refrigerator Disposal

Garbage Removal

Mattress Disposal

Foreclosure Clean Outs
Construction Waste Removal

Yard Waste Removal

Trash Removal

Appliance Removal
Television Disposal & Recycling

Furniture Removal

E-Waste Disposal

Hot Tub Disposal
How to Book our Gadsden Dumpster Rental
Ready to book a Gadsden dumpster rental and get your waste removal project started? We have made our dumpster rental process so simple for all customers, whether you are renting a dumpster for the very first time and need support or are a waste management expert and just need the container delivered. Give us a call at (256) 931-5300, choose a dumpster size, and schedule a delivery according to our rental availability and your schedule. We do our best to accommodate your timeframe and specific project needs to the best of our abilities.

Our Gadsden dumpster rental costs are inclusive of the weight quoted for the dumpster size, as well as delivery and pick-up. We have a 10-day rental period for a residential dumpster and a 30-day rental period for a commercial or construction dumpster. If you have any questions or further concerns, you can reach one of our team members over the phone or you can send us a message on the 'Contact Us' page on our website. We look forward to hearing from you and getting the dumpster rental process started today!
Prices & Sizes of our Gadsden AL Dumpster Rental
We're confident our selection of Gadsden AL dumpster rental options will meet the needs of your upcoming project in a timely, affordable, and reliable way. We offer two convenient options that suit a range of residential, industrial, or commercial projects. Take a look at our selections and give us a call to get your rental scheduled today!

Our 20 yard dumpster rental Gadsden AL can haul up to 3 tons of any type of waste or debris and is a perfect fit for both residential and commercial projects. The dimensions for this rental are 22' long by 7.5' wide and 4' high. We regularly rent this size out for remodeling projects, foreclosures, large landscaping projects, and more!

Our 30 yard dumpster rental Gadsden AL is perfect for large-scale waste removal projects and can accommodate up to 5 tons of material. It measures 22' long by 7.5' wide by 6' high. This size is often rented for commercial and industrial waste removal.

We're happy to provide our dumpster rental prices Gadsden AL locals rely on by giving us a call and sharing your project goals, timeframe, and budget to get started. The standard residential rental period is 10 days and the standard commercial rental period is 30 days for either of these sizes. We provide same-day dumpster service, and we also offer free consultation without any commitment on your part, so give us a call at (256) 931-5300 to receive a custom quote from one of our team members.
FAQs About our Dumpster Gadsden AL
We make it possible for everyone who needs to rent a dumpster Gadsden AL can trust to schedule our services in a hassle-free and convenient manner. Take a look at our frequently asked questions below and browse our website for information about pricing, sizes, and types of rentals. If you have any additional questions, call us or use our online contact form and we'll get back to you as soon as possible.

1) How much does it cost to rent a dumpster?

Our estimated dumpster rental cost Gadsden AL customers appreciate ranges based on the size of the dumpster, amount of waste hauled, and rental period. Both our 20 and 30 yard dumpster options are available with flexible rental terms and affordable options. We understand many people are searching for the cheapest dumpster rental Gadsden AL can offer, but along with cost-effective prices, we guarantee on-time delivery and fantastic customer support. You can get a specific dumpster rental estimate that suits your needs over the phone by giving us a call at (256) 931-5300.

2) Do you have weight restrictions for dumpsters?

Yes. While our 20 yard dumpster can accommodate up to three tons of unwanted waste, our 30 yard dumpster can accommodate up to five tons of material. We charge overage fees for a dumpster Gadsden AL chooses for reliable service if a customer goes above the roll-off container's weight limit without prior agreement. If you have any concerns about the weight you need to be hauled away, feel free to give us a call to receive a custom quote for your specific rental needs.

3) What if I choose a dumpster and find that it is too small?

We pride ourselves on providing dependable Alabama dumpster rental services, and we make it our priority to ensure that we help you throughout the entire rental period. We have a dumpster swap-out service so you can call us and request another dumpster and we will have the full dumpster hauled away to then promptly deliver a second dumpster so that your project isn't interrupted. We're flexible and ready to find the best solution for your specific waste management needs.

To book a dumpster Gadsden AL communities depend on regularly to help support a range of project and work site goals, give our team a call at (256) 931-5300 today!
Servicing Surrounding Areas with our Roll Off Dumpster Gadsden, AL
We're proud to be the #1 source for a roll off dumpster Gadsden, AL can depend on to help support a range of projects and work sites. We regularly work with local businesses, homeowners, property managers, and school districts to keep our communities waste-free and looking their best. We deliver to the 35901, 35903, 35904, 35905, 35906, and 35954 zip codes in Etowah County, as well as surrounding areas.

We offer consistent, professional services and roll off dumpster Gadsden, AL residents, contractors, and business owners can depend on for reliable services and versatile selections. Our goal is to help you find the appropriate dumpster size for your individual needs at a cost-effective and valuable rate. We also deliver roll off dumpster rentals to Arab, Guntersville, Albertville, Boaz, Cullman, Holly Pond, Baileyton, Blountsville, Snead, Horton, Union Grove, Grant, Lacey's Spring, and Somerville. Shopping for a dumpster rental near me Gadsden AL, but don't see your city or zip code listed? Give us a call at (256) 931-5300 to discuss your options.
5-Star Reviews for Our Roll Off Dumpster Gadsden AL Residents Can Rely On
For a roll off dumpster Gadsden AL residents and contractors can rely on, choose the experienced, professional, and 5-star reviewed services of North Alabama Dumpsters! We're proud to offer a range of rental options that suit the needs of a variety of budgets, projects, and timeframes. Whether you're managing a warehouse and need waste management support or are beginning a DIY remodeling project, we're here to help.

Over the years, we've become the go-to source for dumpster rentals in Gadsden and other surrounding areas by offering unparalleled customer service and selections. Take a look at some of our glowing reviews and customer feedback below and book your dumpster rental through our website today!
Background: None
What Our Customers Are Saying
Leandra M.
North Alabama Dumpsters made our remodeling project go a little smoother. They were very courteous and easy to work with. I would definitely recommend this company.
B. King
North Alabama Dumpsters is a very reliable company. I highly recommend.
Dan T.
Did a great job very professional, customer friendly, equipment was exactly what I needed and in good condition. Mike was very easy to communicate with.